Avoid delivery nightmares
Posted On 10/7/2023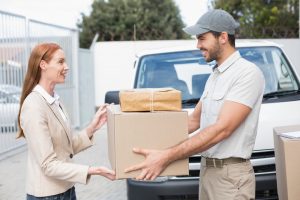 A recent study revealed that 26% of respondents would stop buying from a company if they were not happy with the delivery firm used. Losing business over a problem which is not caused by you is certainly the worst way for it to happen.
We found that most online shops use more than one delivery firm – but none of them offer customers a choice over which is used.
With a third of online shopping problems relating to delivery, this seems to be the weak link in the web retail boom. It means customers who have had a bad experience with a particular delivery firm are left pretty powerless if they want to avoid using them again.
Delivery firms are responsible for taking your parcel from your door to your customer's door. It's therefore really important to choose the right company to do this for you but it's equally important for you to prepare for this process accordingly. Here are a few tips which should help you avoid problems when sending parcel.
Check the address carefully when sending parcel abroad
This may sound like an obvious point, but it's a crucial one. Foreign addresses are usually not written in a format that's familiar to you, with codes, districts, departments and provinces listed seemingly out of order. That's not to mention the confusing spelling of some local place names. However, the number one tip for avoiding postage problems is to ensure that you've got the address absolutely – letter for letter, number for number – correct. Double check and write legibly. Ideally, print the address out and stick it to the package with clear tape over the top to prevent the ink from smudging.
No restrictions
Some items are subject to restriction, whether they are prohibited or require special certification. This covers antiques, alcohol, sharp objects and some electronic items. If you are not sure whether your item might be restricted, get some advice (especially if it's being opened up to international buyers).
You'll need to place a customs declaration on your parcel prior to sending which details the contents and your courier firm will know whether or not any special rule applies – hence you could find that they won't post your parcel at all, so check in advance.
Wrap up well
Although your chosen courier service will do its best to take good care of your parcel, it's likely that it will get bumped about a little on the journey. Make sure you wrap the item up well, using sufficient tissue, newspaper and/or bubble wrap. Ideally, the item shouldn't have space to move about in a box or envelope; either pad it out or use a smaller one. If you have an awkward or delicate item, ask your courier service for some guidance. Remember to mark the packaging as 'fragile' as an extra precaution.
Use the right delivery service
Air mail, over-land, signed for, tracked – there will be lots of options open to you depending on time-scale and budget. Make sure you understand what each one entails in order to make an informed decision. It's probably a good idea to choose a service that you can track, that way you can keep the recipient updated. Plus, should there be any issues, the parcel and its journey can be traced.
Check the delivery timings
It's important that you know precisely how long international postage might take, particularly if you need to specify it. This information is easy to find on an international courier service's website. Ensure you get these details correct, there's nothing worse that under-promising on arrival time or over-charging the cost; it could lead to a complaint.
Return to sender
If all else fails, make sure that you include a return address so that should the parcel simply not get through for an unforeseen reason, it can at least find its way back to you.
64% of respondents believe that the seller is responsible for the transaction from the moment they've purchased the item to when it arrives on their door steps. So unfortunately as harsh as it sounds, even if the problem wasn't caused by you, it's very likely that you will be the one to be blamed for it.